FP Virtual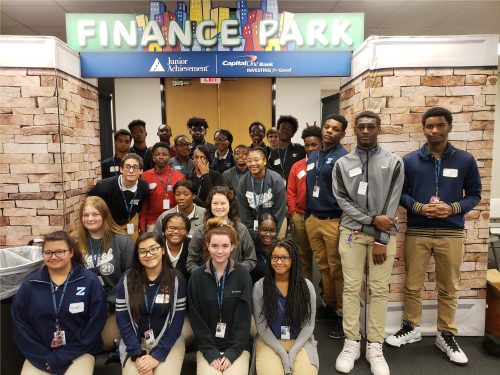 JA Finance Park is an economics education program that introduces personal finance planning and career exploration. It is designed to be taught to middle school and high school students by the classroom teacher and volunteer. After completing the in-class curriculum, the students complete the JA Finance Park Virtual simulation to put into practice what they've learned about economic options and the principles of budgeting.
During the virtual simulation, students become "adults for a day" and are assigned fictional jobs, incomes, families, and expenses. Assisted by their teachers, students have the opportunity to actually develop and commit to a personal budget.
Students are then expected to develop and stick to appropriate budgets, while making real-life decisions about housing, transportation, food, furnishing, savings, investments, utilities, insurance, and charitable contributions – the decisions they will ultimately make upon entering adulthood.
Please reach out to Kathie Hayden at khayden@jabatonrouge.com or 225-229-2619 for more information.
This program is made possible by these sponsors:
CAPITAL ONE BANK
NVENT FOUNDATION
STATE FARM
CBBR, INC FOUNDATION
CAPITAL AREA FINANCE AUTHORITY
GRACE
LOUISIANA HEALTHCARE CONNECTIONS
COCA-COLA